The final exclamation point to any successful catered occasion is a dessert that puts a smile on everyone's face. At Ingles, we have a mouth-watering array of delicious desserts to cap off your special event. From decadent cakes to gourmet cookies, we provide the final course to satisfy any sweet tooth.
Choose from a wide variety of options. Have questions about pairing sweets with the main course? Contact us today for recommendations straight from our bakery. Our chefs are happy to lend their expertise to helping you pull off the perfect event.
While we are happy to accommodate the brownies and cookies crowd, our menu also features delightful dishes including crème brulee, tiramisu, and an incredible mixed berry creamed custard torte. Enjoy!
Additional desserts are available including: Raspberry Cheesecake, Southern Carrot Cake, Chef's Kitchen cookies, Mixed Berry Cream Custard Torte. Additional choices upon request.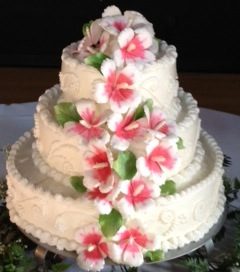 Luscious cake stacked and iced with buttercream decorated with intricate scroll detail around each layer , hibiscus flowers in full bloom lovingly cascading down the side.
https://www.thechefskitchen.com/wp-content/uploads/2018/05/photo_3.jpg
272
240
integritive
https://www.thechefskitchen.com/wp-content/uploads/2018/05/logo.jpg
integritive
2018-05-22 12:38:54
2018-05-22 21:06:33
Love in Bloom
Our chefs are here to please.
You are not limited to the selections we have listed. Your wish is our plan.